An Unhappy Medium

A Family Fortune Mystery, #4

Dawn Eastman

Genre: Cozy Mystery
Publisher: Berkley
Date of Publication: April 5, 2016
Number of pages: 304
Cover Artist: Daniel Craig



Psychic Clyde Fortune and her zany family are back in the fourth in the national bestselling series from the author of A Fright to the Death.

Former cop and novice psychic Clyde Fortune finds herself in a race for justice when a Zombie Fun Run turns deadly...

All of Crystal Haven, Michigan, is psyching up to participate in a Zombie Fun Run organized by Clyde's nephew Seth, but Clyde is fretful about the undead festivities. For one thing, her sister, Grace, has unexpectedly returned to town after fifteen years. For another, Clyde has the nagging feeling that something is about to go wrong...

When one of the zombie runners is found murdered and then Grace disappears, Clyde realizes her grim premonition is dead-on. Now, she and her police detective boyfriend Mac must find a ghoulish murderer before someone points the finger at Grace. And when a tangled web of family secrets and old grudges combines with a mysterious case of stolen diamonds, even someone as quick-witted as Clyde might not be able to outrun a killer...
Review:

Have you ever read a series that just made you happy just reading it? This is one of my happy place book series. I mean, here we are on book 4 and the books just keep getting better.

I have to start with my cover love of this series. Each book shows us seasonal scenes from around the town, each featuring the two canine sidekicks, Tuffy and Baxter. There is just something about each of them that speaks to me.

Then there is the main character, Clyde. She's grew up in a family of psychics, in a town that is famous for it's psychic and mentalist residents and shops. But Clyde went her own path and went into law enforcement, following logic and reason. And that was fine, until the day that her psychic gifts clashed with her job. She ended up on a leave of absence and came home to Crystal Haven. There she found that maybe what she had been fighting against wasn't really all that bad.

Over the past three books, Clyde has re-developed a relationship with her high school boyfriend who is also a police officer, she reconnected with best friends Diane and Alex, and become the guardian of her nephew Seth. Clyde has found a new understanding with her mother and even started a Private Investigation firm, specializing in finding lost items and animals. Clyde has shown true growth as a character, and her kooky family keeps things hopping.

In this book, we are finally introduced to Clyde's sister Grace and her husband Tom, as they come to town to surprise Seth. But as it turns out, that's not the only reason they are there. And when Grace's ex-fiancé ends up murdered, wearing the same zombie pirate outfit that Tom had been wearing, things get really intriguing fast.

This was another incredible addition to the Family Fortune Mystery series, and I had such a fantastic time with it, I didn't want it to end. This was a 5 star read for me.

Thanks to Great Escapes and Dawn Eastman for the opportunity to read and review the book.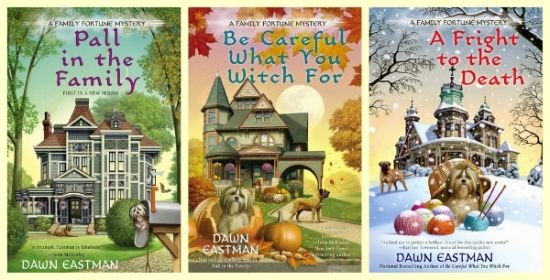 Giveaway:
Author Bio:
Dawn Eastman lived in Michigan for many years, in a house full of animals, unusual people, and laughter. She now lives in Iowa with her family and one extremely bossy small dog. She is the national bestselling author of The Family Fortune Mystery Series, which features psychics, animal communication, quirky characters and murders.

To connect with the author online:

Website | Blog | Facebook | Twitter | Goodreads