Series: The Emerging Queens, #3
Publisher: Entangled: Select Otherworld
Published: May 23, 2016
Genre: Paranormal Romance
Length: 250 pages

<!--more-->

Jamie Schmidt started out as an unknown to me author, when I picked up The Queen's Wings. I had such a fantastic time with that book, that I didn't even bother to read the blurb when The Queen's Flight came out. Now, the third book in this exciting series has come out and once again, I had a fantastic reading experience.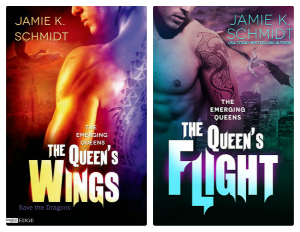 This book starts up immediately following events in the end of The Queen's Flight. Once again, we have another newly emerged Queen in trouble. Margery was an investigative journalist who hid the fact that she was a Queen. At least she did until she got caught while she was doing some clandestine investigating on a story concerning dragons and a corrupt corporation run by them.

Remy is our first introduction to water dragons, and finding out that his mother is Nessie, the Lochness Monster, was totally cool. Thinking of the movie, The Water Horse, I was totally able to picture our yummy Remy. I don't think the book was specific about his accent, but I totally heard one in my head, lol!

As before, this book had me giggling and reading specific lines of dialogue out loud to enjoy testing the feel of the words. For example, the following takes place shortly after Margery rescue. Remy is trying to care for her, and being very formal and politic about his duties to a Queen on his territory. Margery, on the other hand, is a modern career woman who wants nothing to do with the political headaches and dramas of being a Queen. Their clashes had me grinning with glee.
Remy sighed. "I'm sorry, my Queen."
"Knock that shit right off," she told him.
He blinked at her.
"I'm Margery. Just plain Margery." They glared at each other for a moment, until she looked down. "I'm sorry if I snapped at you."
"Queens don't apologize," he said through his teeth.
"I just told you I'm not a Queen."
"Yes, you are. I saw you. Although you looked like a plucked chicken rather than a dragon."
"Up yours," Margery said. "Stick you in a cargo hold for a few weeks and see what you look like."
Overall, this was another excellent book in the series. The world building continues, learning new facets of this interesting alternate world where Dragons live side by side with humans. Though I suppose technically you could read this as a stand alone, I would highly advise against it. The characters have been interesting and the dialogue wonderful. I truly hope to see more see more books in this series. I gave this book 4 dragon sized stars.
Netgalley and Entangled Publishing provided me with this book in exchange for my honest opinion.
Despite his handicaps outside his natural habitat, water dragon Remy "Champ" Champlain fights to protect Queen Margery from those who plot to quash her damaging news reports by silencing her... forever.

He can never have her, but he'll protect her with his life.

After newly shifted sky dragon Queen Margery is rescued from smugglers by water dragon Remy Champlain, she debates whether to flesh out the story that nearly got her killed or embrace her royalty and build a court of protectors and studs. Sparks fly between Remy and her. He'd love her to give up her job and settle down…hopefully with him…but he can't fly and she can't swim, so their relationship can never get off the ground.