Series: Search and Rescue, #2
Publisher: Sourcebooks Casablanca
Published: June 7, 2016
Genre: Romantic Suspense
Length: 450 pages

The last two stories in this series dealt with the Dive Teams part of Search and Rescue. This story centers on the Fire Fighting side, specifically with biker bad boy, Ian Walsh. To be honest, I wasn't sure that I was going to be all that into this book. I mean, I am so done with the sub-genre of "MC/biker" books. It's on my list of Nope's, falling right under "Billionaires". Seriously, I'm just over them all ready. But I enjoyed the last book so much, that I had to give this one it's fair chance. I'm glad that I did. This book didn't take us down that well worn road with the usual cliches and try to glamorize or sensationalize bikers. It simply painted the picture of the good and bad that can be found in the clubs and they are made up of all kinds of people.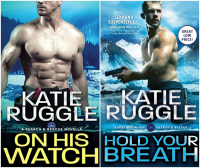 Our heroine, Rory, was such an awesome character. She appears to be a bit anti-social, plenty paranoid and with just a smidgen of the dark side. But that's not it at all, not really. There are plenty of good reasons why she is the way she is. And the fact that Ian seriously adores her is so amusing in her bafflement of how to act towards him. I had a lot of fun watching these two dance around each other. I loved how the female character is the gun enthusiast and to be honest, after reading about her handling them, it totally made me want to go to a shooting range and give it a try.

There were some great moments in this book, including the ones where she is going head to head with the less legal members of the biker clubs. The following is what she tells one who is giving her a bit of hard time about one of her guns:
"No, I've decided for you." Rory flicked her fingers in a "gimme" gesture. There was a beep indicating someone had just come through the front door of her shop, and the last of her patience disappeared. "If you can't appreciate an accurate, dependable, untraceable Kel-Tec SUB 2000 because it's not comfy enough, then you don't deserve it. Hand it over."
The series arc continues as they we find out more information about the HDG and the mystery surrounding his death, as it ties into the plot of this particular book. I enjoyed the ride along and behind the scenes of the firehouse, as Rory interacted with Ian. There was plenty of action carefully balanced by heart, and it kept me turning pages until I finished breathless. This was a Great Read and I gave it 4 stars.

Netgalley and Sourcebooks Casablanca provided me with this book in exchange for my honest opinion.
In the remote Rocky Mountains, lives depend on the Search & Rescue brotherhood. But in a place this far off the map, trust is hard to come by and secrets can be murder...

As a Motorcycle Club member and firefighter, Ian Walsh is used to riding the line between the good guys and the bad. He may owe the Club his life, but his heart rests with his fire station brothers...and with the girl he's loved since they were kids, Rory Sorenson. Ian would do anything for Rory. He'd die for her. Kill for her. Defend her to his last breath-and he may just have to.

Every con in the Rockies knows Rory is the go-to girl for less-than-legal firearms, and for the past few years, she's managed to keep the peace between dangerous factions by remaining strictly neutral. But when she defends herself against a brutal attack, Rory finds herself catapulted into the center of a Motorcycle Club war-with only Ian standing between her and a threat greater than either of them could have imagined.