Series: The Shaughnessy Brothers, #3
Publisher: Sourcebooks Casablanca
Published: July 5, 2016
Genre: Contemporary Romance
Length: 352 pages

I was excited to see another Shaughnessy Brothers book come available and I am adoring that cover. There is something about it that just makes me think of long summer days and flirting with that cute boy next door.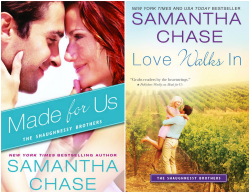 As I have mentioned in my reviews for the first two books in The Shaughnessy Brother's series, the author has once again thrown us a curve ball. What do I mean by that? Well, in the very first book, it was clear there was some not only massive chemistry between best friends Quinn and Anna, but Anna's been fighting a major crush most of her life. So with this sweet teasing build up between the two characters, I figured we wouldn't get their happily ever after until the last book. You know, keeping us in suspense throughout the entire series? That would be standard operating procedure for most authors. But nope, here we are, mid-way through and *Bam*, we get their story.

And what a story it was. Anna was such a strong character. Yes, she does try to change herself to please and attract Quinn, but she also makes some wonderful discoveries about herself in the process. Then, just as she is throwing in the towel and working towards trying to get over Quinn, he finally figures things out. Quinn turned out to be a much more complex character than he had appeared in the first two books. I really enjoyed their interactions and the dialogue was so clever. I had a great time with this book and gave it 4 stars.

Sourcebooks Casablanca and Netgalley provided me with this book in exchange for my honest opinion.
Falling in love with your best friend? Easy.
Telling them how you really feel? Impossible.

Quinn Shaughnessy believes there's a lot more to life than romance, and he always thought his best friend Anna agreed. But now she's coming out of her shell and dating... and Quinn starts seeing her in a very different light.

Anna can tell Quinn anything, except the big secret she's been hiding for years-that she's fallen in love with him. Now Anna is determined to make a life for herself that doesn't include hopeless pining. But just as she's ready to move on, Quinn seems determined not to let go-and the way he's looking at her might be enough to finally change them from best friends to best everything.